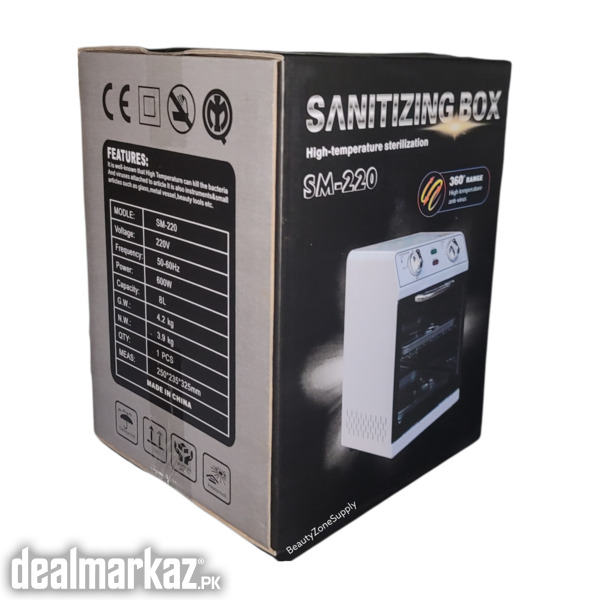 LOCATION
---
Lahore, Punjab, Pakistan
DESCRIPTION
---
Remove all accessories and bags in the oven.

There must be enough space around the dry oven so that the distance from its object is at least 10 cm.

When using for the first time, the temperature should be brought to the maximum temperature and preheated for 15 minutes. To eliminate residual oil smoke. The oven automatically restarts again when the oven temperature drops.

The timer can be set to a maximum of 60 minutes by turning the timer position clockwise. After the set sterilization time has elapsed, you will hear a beep and the disinfection cabinet will automatically turn off the power.

The oven has various temperature settings. Sterilization temperature can be adjusted in the range of 80-220.

After a certain period of operation, the oven is in working order. Please do not touch or move it when the surface temperature is high.

Drying cabinet SM-220 is designed for disinfection of manicure and pedicure instruments before the procedure, as well as for their cleaning after use. Dry heat is widely used in cosmetology clinics and centers, manicure and pedicure rooms with the need to sterilize a large number of instruments. Due to the high temperature during the sterilization process, 99.9% of bacteria are neutralized. Sterilization occurs by heating the air to high temperatures. Outwardly, the cabinet looks very stylish and will decorate any manicure room or salon.

The internal block of a thermal sterilizer is made of stainless steel. Inside the device there is a special tray for storing and sterilizing instruments. The oven SM-220 is equipped with regulators with which you can set the heating temperature and the timer. The timer function allows you to control the sterilization time, which is determined depending on the degree of contamination and the material from which the instrument is made. Several sets of instruments can be sterilized in a dry oven.

Specifications:

Capacity: from 2 - 4 kraft bags.

The following time modes are available: from 0 to 60 minutes.

Available temperature range: from 80 to 220°C. The temperature is determined depending on the material of the tool.

Power: 600W

Size: 250 x 235 x 325mm

Internal chamber volume: 12 l

Operation timer: 0 to 60 minutes

Thermostat: 80 to 220 °C

Power supply: 50-60 Hz, 220 V

You can use kraft bags - 180-200 °C for 60 min.

Weight (without packaging): 3.9 kg

Equipment:

dry oven,

cable,

tray,

lattice,

instruction.
Mention that you found this ad on DealMarkaz.pk when you call.