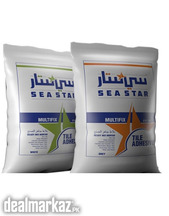 LOCATION
---
Shop # LG-06,07,08, B-01 Markaz Multi Gardens B-17, Multi Gardens B-17, Islamabad, Islamabad Capital Territory, Pakistan
DESCRIPTION
---
MULTIFIX – STA300

POLYMER MODIFIED, CEMENT BASED HIGH QUALITY COMPONENT, THIN OR THICK BED WALL AND FLOOR TILE ADHESIVE FOR INTERIORS AND EXTERIORS.

DESCRIPTION
MULTIFIX – STA300 is a cement based Polymer modified tile adhesive for thin or thick bed fixing of all kind of tiles in interior or exterior situations. MULTIFIX – STA300 is suitable for fixing materials such as ceramic tiles, vitrified tiles, Marble and Stone cladding.

TYPICAL APPLICATIONS
MULTIFIX – STA300 is the tile adhesive of choice for swimming pools and may be used with confidence in all wet areas including Shower Rooms, Institutional Kitchens, Bathrooms and Decorative cladding.
MULTIFIX – STA300 may be used to tile directly onto glazed tile surfaces and is especially recommended for non-porous or high density and glass mosaics where it may be used to both fix and grout.

TYPICAL PROPERTIES *
Colours : Off white and Grey
Density : 1.1kg/m³
Yield : A 20kg bag mixed with 4 litres of water yields 15.5 litres of mixed adhesive.
Toxicity : MULTIFIX – STA300 is non-toxic after cure, and can be safely used in conjunction with potable water.

COVERAGE
Thin-bed fixing : 3 - 4kg/m² at 3mm thickness (Smooth surface using notched trowel)
Solid-bed fixing : 6 – 8kg/m² at 6mm thickness
APPLICATION PROCEDURE
The surface to be tiled should be sound, dimensionally stable, clean and free from dusty or friable materials, paint, grease, oil etc.

MIXING INSTRUCTIONS
Mix MULTIFIX – STA300 by clean water at the rate of 3:1 by volume.
Leave to stand for 15 minutes then stir. Don't add further water.

APPLICATION INSTRUCTIONS
Apply MULTIFIX – STA300 to a depth of 3mm on a working area of not more than 1m². ( See Note 1 )
In wet conditions and for floor tiles and for all other vertical applications, the adhesive bed should be combed horizontally with a notched trowel to remove excess.
Fix dry tiles by pressing into place with slight twisting motion ( See Note 2 )
Ensure that at least 65% of each tile is in contact with adhesive.
Clean off surplus adhesive from the face of the tile with a damp cloth. Similarly, joints must be raked out in readiness for grouting.
Leave for a minimum of 24 hours before grouting.

NOTE
Solid-bed fixing is recommended for wet conditions and for ceramic, Terrazzo and Marble flooring tiles and vertical heavy duty applications including decorative Stone cladding. But unlike the application of ordinary tiles, apply to the cladding itself and not to the substrate. For best results, allow no more then 35 kilos weight of stone cladding (of average thickness 10mm) per square meter.
Fix tiles (which should be dry) by pressing into place. Beginning at the bottom in the case of wall tiles and at center markings in the case of floor and pool tiles.
WATCH POINTS
MULTIFIX – STA300 should not be used on painted or metal surfaces.
The use of chilled water while mixing, will extend open wet time in high ambient temperatures.
WORKABILITY
Working time of MULTIFIX – STA300 is about 30 minutes at 25°C, after 15 minutes standing time and tiles must be fixed in position before drying out occurs. For this reason, it is essential to work with in a comparatively small area at a time.

COMPOSITION, PROPERTIES, APPEARANCE
MULTIFIX – STA300 is a blend of Portland cement and graded Sand, reinforced with polymer content, with thin / thick bed performance.

COLOURS
MULTIFIX – STA300 is available in Grey & White Colours.

PACKAGING
MULTIFIX – STA300 is available in 20kg bags.

STORAGE
Store out of direct sunlight and protect from water.
Mention that you found this ad on DealMarkaz.pk when you call.