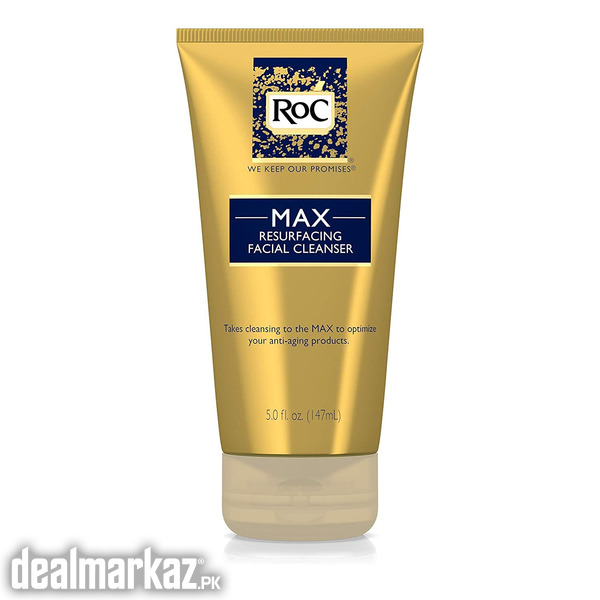 LOCATION
---
40-M Gold Mine Plaza, Ichhra Shershah Colony Lahore, Punjab 54000, Ichhra Shershah Colony Lahore, Punjab 54000, Lahore, Punjab, Pakistan
DESCRIPTION
---
Roc Max Resurfacing Anti-Aging Facial Cleanser is a high-quality skincare product that is designed to help you achieve younger-looking, smoother, and brighter skin. This facial cleanser is formulated with powerful anti-aging ingredients that work to resurface and refine the skin, leaving it looking and feeling renewed.

This 5 fl. oz. bottle contains a gentle yet effective cleanser that is perfect for everyday use. The formula is infused with glycolic acid, which is a type of alpha-hydroxy acid that helps to exfoliate the skin, remove dead skin cells, and unclog pores. This helps to improve skin texture, reduce the appearance of fine lines and wrinkles, and even out skin tone.



Roc Max Resurfacing Anti-Aging Facial Cleanser also contains jojoba beads, which provide gentle physical exfoliation to further remove dead skin cells and reveal smoother, brighter skin. These beads are biodegradable, making them an eco-friendly option for those who are conscious about the environment.

In addition to glycolic acid and jojoba beads, this facial cleanser also contains vitamin C, which is a powerful antioxidant that helps to protect the skin from free radicals and environmental damage. Vitamin C also helps to brighten the skin and improve the appearance of dark spots and discoloration.

This facial cleanser is gentle enough for daily use, yet powerful enough to deliver visible results. It effectively removes dirt, oil, and impurities from the skin, leaving it feeling clean and refreshed. The formula is non-comedogenic, meaning it won't clog pores, and it's also oil-free, making it suitable for all skin types.


To use, simply wet your face with warm water, apply the cleanser to your fingertips, and massage gently onto your skin in circular motions. Rinse thoroughly with warm water and pat your skin dry with a clean towel.

Overall, Roc Max Resurfacing Anti-Aging Facial Cleanser is a fantastic choice for anyone looking to improve the appearance of their skin and achieve a more youthful, radiant complexion. Its gentle yet effective formula is suitable for all skin types and delivers visible results with regular use.
Mention that you found this ad on DealMarkaz.pk when you call.