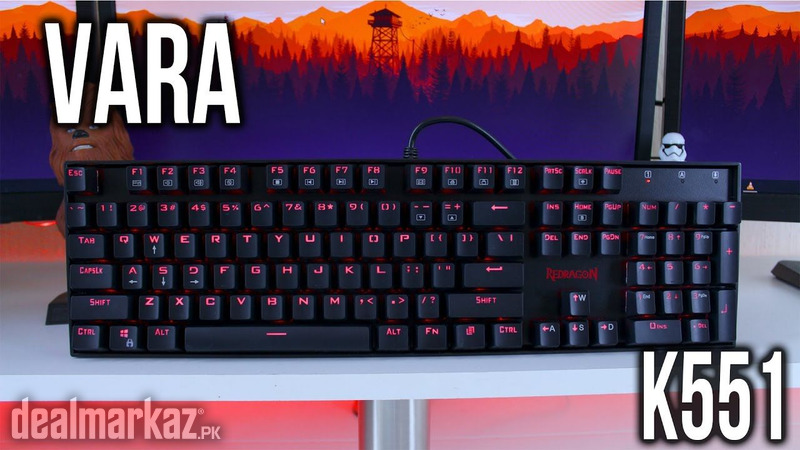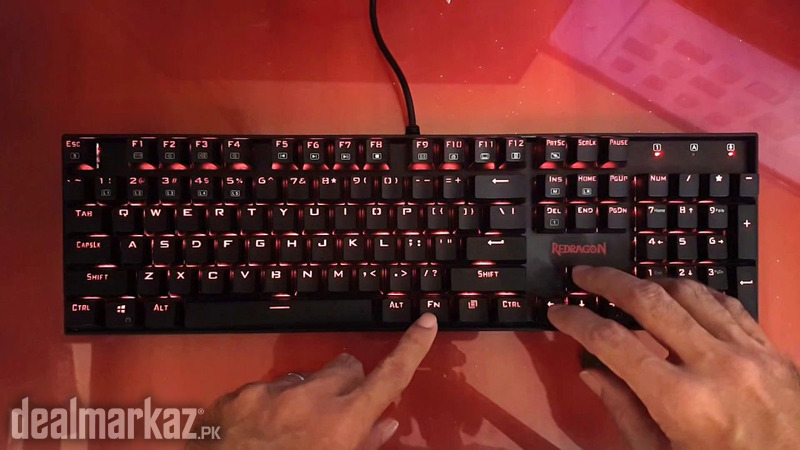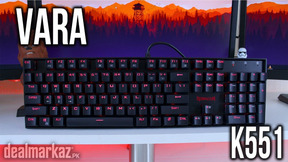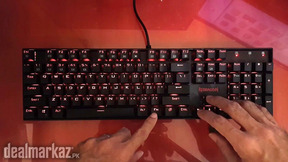 LOCATION
---
40-M Gold Mine Plaza, Shershah Colony, 54000, 40-M Gold Mine Plaza, Shershah Colony, 54000, Lahore, Punjab, Pakistan
DESCRIPTION
---
Brand: Redragon
Product: Keyboard
Product Type: RGB, Backlit Mechanical
Product Name: Redragon K551 VARA LED Backlit Mechanical Gaming Keyboard


REDRAGON K551 RGB-1 VARA MECHANICAL GAMING KEYBOARD 104 KEYS 100% CONFLICT-FREE, ANTI-GHOSTING

The Industrial Design of the Redragon K551 Mechanical Keyboard is not just nice to look at, it also has great ergonomics and a space-saving design. No matter how long you type or how intense your gaming marathons are, you are always comfortable. One tough mechanical gaming keyboard. Perfect for whatever battle you might face.

The Redragon K551 isn't your average mechanical gaming keyboard. Not only is it a great choice for entering the World of Mechanical Keyboards, but it's also over-engineered and built to take a beating, but it is also loaded with features aircraft-grade aluminium and ABS construction, plate mounted keys, double-shot injection moulded keycaps, high-end switches with mechanical ultra-last springs, crisp and bright adjustable RGB LED backlighting, a gold-plated USB connector for a reliable connection, and a splash-resistant design.


RGB Advanced backlight control

Not feeling like blue today No problem, pick among 12-RGB backlight colours and 6 different lighting modes plus Rainbow effect for all 104 keys. The user has the ability to set the different colors for individual keys, adjust backlight brightness (5 levels), breathing speed, or if necessary turn the illumination completely off.

Double-shot injection moulded keycaps offer crystal clear uniform backlighting and lettering that doesn't scratch off.

Play Brilliantly

Plate mounted keys! This high-quality build technique integrates a metal plate between the switches and the PCB. This process makes for a rigid and sturdy keyboard platform that is built to last. The Custom mechanical switches (Outemu, Cherry Blue equivalent) are designed for longevity with greater durability and responsiveness. The Mechanical keys offer medium resistance, audible click sound, and crisp, precise tactile feedback for ultimate Gaming performance.

Furthermore, the keyboard features:

• Full-Size Keyboard with 104 standard keys, full numeric keypad

• All 104 keys are 100% conflict-free, anti-ghosting

• Windows key lockout option.

• 12 Dual-action Multimedia and "F" keys

• WIN key can be disabled for gaming

• Redragon K551 RGB Backlit Mechanical Gaming Keyboard Enter the world of affordable mechanical keyboards.

• RGB Advanced backlight control

• Full-Size keyboard with 104 standard keys, full numeric keypad

• All 104 keys are 100% conflict-free, anti-ghosting

• Windows key lockout option.

• The Redragon K551 RGB Backlit Keyboard offers the perfect blend of features, functionality durability and comfort at a fantastic value for any serious gamer.

• Great for both office work and gaming

The keyboard is not only good for gaming. It has been designed to be a superb typing tool for office work as well. You'll love the feel and keystroke accuracy, which leads to fewer errors and typos.

The Good news is USA Imported is now offering heavily reduced prices on Redragon accessories go ahead and check out the website.
40-M Gold Mine Plaza, Shershah Colony, 54000, 40-M Gold Mine Plaza, Shershah Colony, 54000, Lahore, Punjab, Pakistan
Mention that you found this ad on DealMarkaz.pk when you call.
یہ شاپنگ ویب سائیٹ نہیں ہے لین دین میں نقصان کی ذمہ داری آپ کی اپنی ہو گی۔