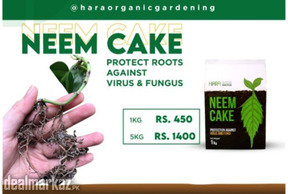 LOCATION
---
B-18, Block 16 Gulshan-e-Iqbal, Karachi, Karachi City, Sindh, Gulshan, Karachi, Sindh, Pakistan
DESCRIPTION
---
Neem cake fertilizer is an excellent organic fertilizer that is made from the by-products of the neem tree. It is a natural and effective alternative to synthetic fertilizers that can harm the environment and affect the health of crops.

Neem cake fertilizer is known for its high nutrient content, which includes nitrogen, phosphorus, potassium, and other essential micronutrients. These nutrients are released slowly over time, ensuring that the plants receive a steady supply of nutrients for sustained growth and development.

One of the unique features of neem cake fertilizer is its ability to repel pests and diseases. It contains natural compounds that repel insects and prevent the growth of harmful microorganisms. This makes it an ideal choice for farmers who want to reduce their reliance on synthetic pesticides and fungicides.

Another advantage of neem cake fertilizer is that it improves the soil structure and fertility. It enhances soil water-holding capacity, soil aeration, and microbial activity, which leads to improved soil health and nutrient availability. This results in better plant growth, increased yields, and improved crop quality.

Overall, neem cake fertilizer is a sustainable and eco-friendly option for farmers and gardeners who want to nourish their plants and protect the environment. It is a high-quality product that can help growers achieve healthy and productive crops while minimizing their impact on the planet.
B-18, Block 16 Gulshan-e-Iqbal, Karachi, Karachi City, Sindh, Gulshan, Karachi, Sindh, Pakistan
Mention that you found this ad on DealMarkaz.pk when you call.
یہ شاپنگ ویب سائیٹ نہیں ہے لین دین میں نقصان کی ذمہ داری آپ کی اپنی ہو گی۔