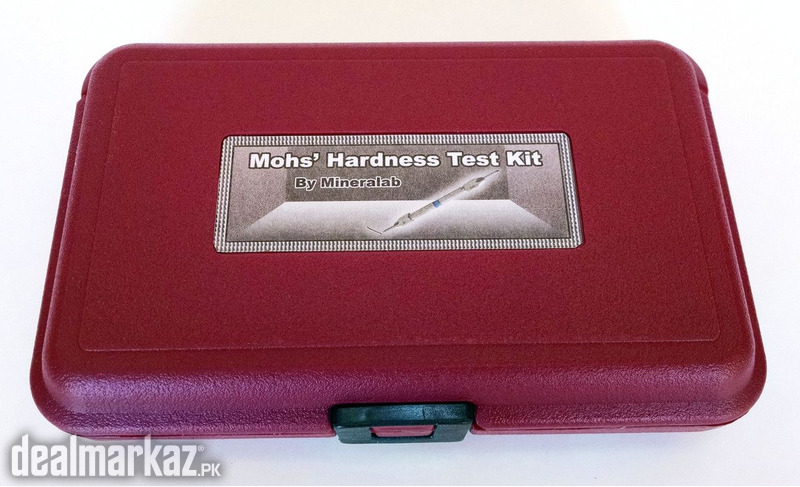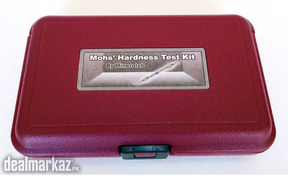 LOCATION
---
S-1, 24-C, Sunset Lane No.1, Phase II (ext) DHA, Dha, Karachi, Sindh, Pakistan
DESCRIPTION
---
Mohs' Hardness test was developed originally for testing minerals, the same concept can be applied to industrial materials. Use this kit for "scratch testing" substances to determine their Hardness according to the Mohs' Hardness scale, which ranges from 1 to 10, where Diamond is the hardest at 10, while Talc is softest at 1.

Simply scratch a smooth surface of your material with the picks of various indicated hardness. As an example, if a No. 5 pick scratches the material, but a No. 4 pick does not, then your material's hardness is 4.5.

Examples of materials on which industry uses this tool:

Concrete
Faucet finishes
Touch screens
Plastics and Glass materials
Counter top materials
Flooring products, etc.

It has been assembled to customized configuration for those industrial uses, with these notable differences versus our Geology kit:

Molded Plastic Case to withstand rugged use in an industrial environment
Non-tarnishing Nickel-Plated Brass Pin Vise Holders for the Hardness Points
Customized Instructions for Use on Industrial Materials
Customized Hardness Tables that cover the range of common materials
This version of our Kit is optimized for Concrete Hardness Testing

What is included in the Mohs' Hardness Test Kit

Four double-ended picks, color-coded, with eight points comprising 2,3,4,5,6,7,8, and 9 on Mohs' hardness scale, as shown above.
Two Hardness Plates (of Mohs' hardness of 3.5 and 5.5)
A 100 grit Grinding Stone to keep the points sharp.
Rugged and compact molded Plastic Case.
Hardness Table for 80 common Materials.
Complete Instructions, customized for Industrial applications.
Mention that you found this ad on DealMarkaz.pk when you call.