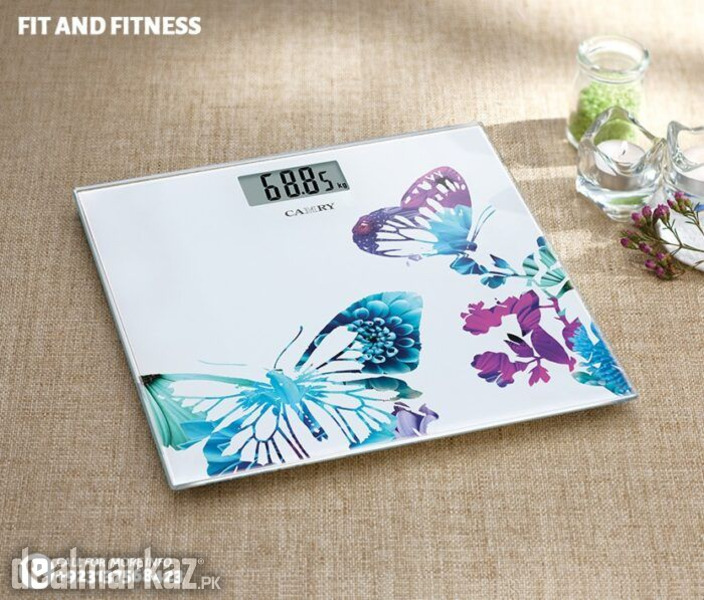 LOCATION
---
Oppo Ladies Park Main Market X Block University Road Peoples Colony Gujranwala, Main Market X Block Peoples Colony Gujranwala, Gujranwala, Punjab, Pakistan
DESCRIPTION
---
Electronic Personal Scale
– Colour: Black
– Dimension of the scale: 30×26.5×1.7cm
– Dimension of color box: 33.6×28.7×3.4cm
– LCD: 1.0inch
– Simple and fashionable pattern
– Ultra-slim 1.7cm
– Max. 150kg/330lb/24st
– Division graduation: 100g (0.2lb)
– Technology 4 sensors
– LCD size: 74×28.5mm
– Step-on technology
– Battery: 1 PC (CR2032)
– Automatic switch-off
– Overload indication
– Low battery indication
– Always use the scale on a solid and flat surface.
– The glass will be slippery when it is wet
– Keep it dry.
– Do not strike, shake or drop the scale.
– Helps in managing the progress.
– Step-on to start, no switch needed.
– Extra-large backlit LCD display.
– Extra-large, easy to read clear & cool.
– Ultra-slim and exquisite & compact
– The tempered glass top is stylish and elegant.
– A weighing scale provides accurate data to manage the process better.
– Checking your weight can give a sense of accountability that the method you're following is working.
– Motivates to continue.
– In addition to this weight, scales act as a motivation and evidence that your hard work is paying off.
– Helps in making an adjustment.
– Checking weight can also act as caution and alert you when you begin to gain a little weight, this can help you alter.
– Make adjustments or change the strategy.
– Weight scales track productivity.
– This provides with information on the changes your body is going through or at what rate you are losing weight.
– Before using weighing scale understand the nature of numbers as this can help you have a healthy perspective when some extra grams appear overnight.
Mention that you found this ad on DealMarkaz.pk when you call.