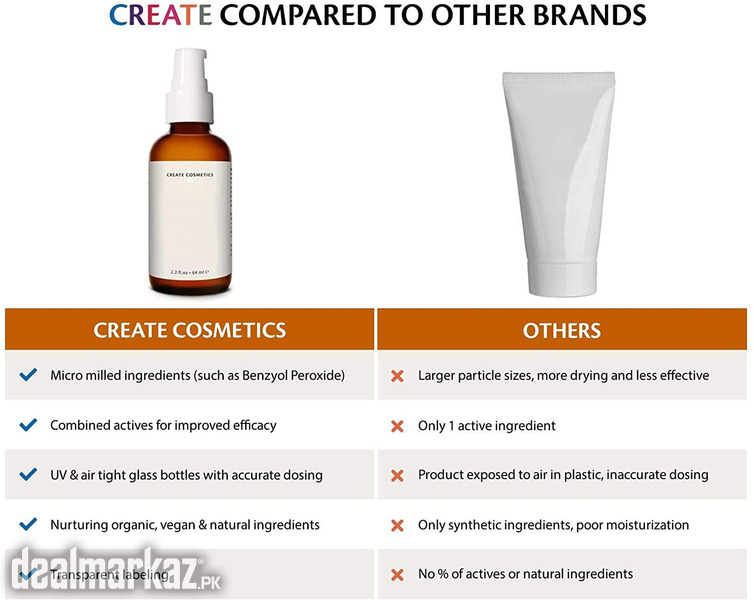 LOCATION
---
40-M Gold Mine Plaza, Ichhra Shershah Colony Lahore, Punjab 54000, Ichhra Shershah Colony Lahore, Punjab 54000, Lahore, Punjab, Pakistan
DESCRIPTION
---
( BPT3 Acne Treatment Moisturizer | 3% Benzoyl Peroxide 1% Tea Tree Oil | 70% Organic 96% Natural | Gentle Plant-based Vegan & Cruelty-free | 2.2 fl. oz )



BPT3 Acne Treatment Moisturizer is an effective and gentle solution for acne-prone skin. The formula features a powerful combination of 3% benzoyl peroxide and 1% tea tree oil, both of which are known for their anti-inflammatory and antibacterial properties. These ingredients work together to target acne-causing bacteria and reduce inflammation, helping to clear up acne breakouts and prevent future ones.



This moisturizer is also gentle on the skin, with a plant-based and vegan formula that is 70% organic and 96% natural. It contains a blend of nourishing ingredients, including aloe vera, jojoba oil, and shea butter, that help to soothe and hydrate the skin, while also providing anti-aging benefits.



BPT3 Acne Treatment Moisturizer is easy to use, with a lightweight and non-greasy texture that absorbs quickly into the skin. Simply apply a small amount to clean, dry skin twice a day, or as directed by your dermatologist. With regular use, you can expect to see a reduction in acne breakouts, as well as a brighter and more even skin tone.



In addition to its acne-fighting benefits, BPT3 Acne Treatment Moisturizer is also cruelty-free, meaning that it is not tested on animals. It is also free from parabens, sulfates, and other harsh chemicals, making it a safe and gentle option for all skin types. Whether you are struggling with mild or severe acne, this moisturizer is a must-have for anyone looking to achieve clear, healthy, and radiant skin.
Mention that you found this ad on DealMarkaz.pk when you call.